Table Tennis Health Benefits: EP Chiropractic Fitness Team
Table tennis is a sport that individuals of all ages and abilities can play. The small scale and reduced movement make it more accessible. It has become more physical, with professional players making fitness an important part of their training. However, at all levels, it offers moderate-intensity activity, which is good for the heart, mind, and body. Recreational table tennis has been found to increase concentration, stimulate brain function, help develop tactical thinking skills and hand-eye coordination, and provide aerobic exercise and social interaction.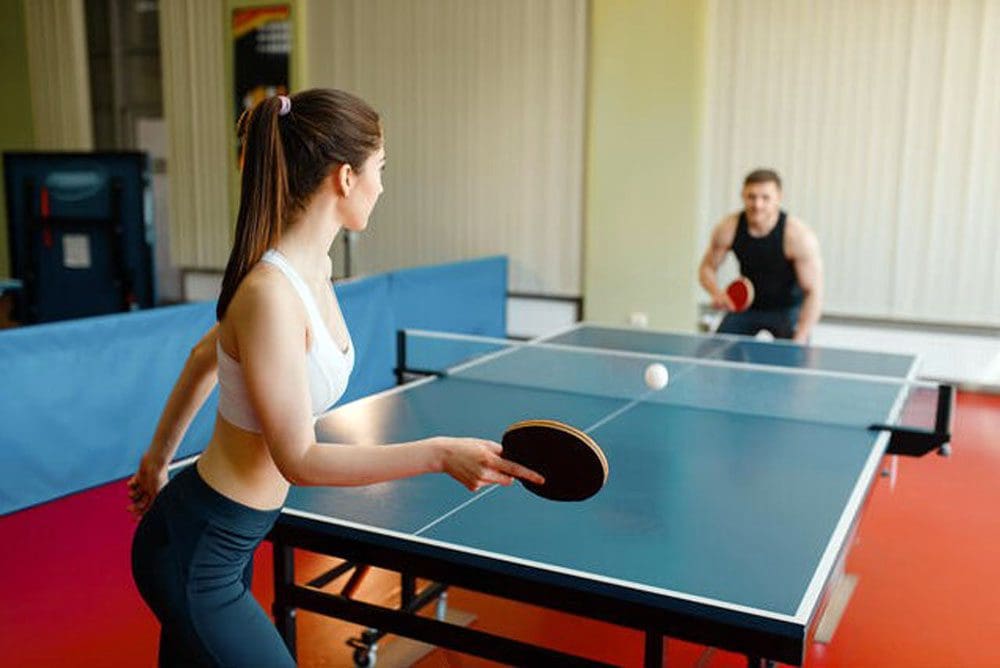 Table Tennis
The setup and rules are similar to tennis and can be played solo or in doubles. The skills needed to develop are learning to hit and control the ball consistently. Table tennis can be complex, with various shots, spins, and styles, but the foundational skills required include:
Proper Footwork
Although the body does not move that far, footwork is essential with the quick movements that are made in a short period.
Basic footwork techniques include fast dynamic movement, balance, and weight distribution.
Serving
Basic serving is necessary to get the point going.
There are many types of service in table tennis, but the major ones are the forehand and backhand serve.
Forehand and Backhand Strokes
Different stroke styles can be used, but forehand and backhand strokes are the most common.
Learning how the body activates and responds to the swing, the point of contact and the follow-through of each stroke is essential to get the most out of each stroke.
Speed and Agility
Table tennis is a fast-twitch muscle sport that utilizes quick bursts of energy and explosive strength.
Coaches and players use a combination of hybrid, high-intensity, and functional training to condition the body.
High-intensity interval training incorporates explosive movements, like squat jumps, to activate the muscles and the anaerobic threshold.
Hand-eye coordination
Playing improves hand-eye coordination skills and stimulates mental alertness and concentration.
This is great for sharpening overall reflexes.
Health Benefits
Table tennis offers several health benefits that include:
It is a social sport that provides a fun way to spend time with family and friends.
The overall risk for injury is low.
Easy on the muscles and joints.
Increases energy.
Improves balance.
Improves reflexes.
Burns calories.
Keeps the brain sharp.
Relieves stress.
---
Table Tennis
---
References
Biernat, Elżbieta, et al. "Eye on the Ball: Table Tennis as a Pro-Health Form of Leisure-Time Physical Activity." International journal of environmental research and public health vol. 15,4 738. 12 Apr. 2018, doi:10.3390/ijerph15040738
Picabea, Jon Mikel, et al. "Physical Fitness Profiling of National Category Table Tennis Players: Implication for Health and Performance." International journal of environmental research and public health vol. 18,17 9362. 4 Sep. 2021, doi:10.3390/ijerph18179362
Pilis, Karol, et al. "Body composition and nutrition of female athletes." Roczniki Panstwowego Zakladu Higieny vol. 70,3 (2019): 243-251. doi:10.32394/rpzh.2019.0074
Zagatto, Alessandro Moura, et al. "Energetic demand and physical conditioning of table tennis players. A study review." Journal of sports sciences vol. 36,7 (2018): 724-731. doi:10.1080/02640414.2017.1335957
Zhu, Ke, and Lina Xu. "Analysis on the Influence of Table Tennis Elective Course on College Students' Health." Journal of healthcare engineering vol. 2022 8392683. 17 Jan. 2022, doi:10.1155/2022/8392683