Volleyball Strength Workout
Volleyball is a dynamic game that requires players to be fast on their feet. Players have to be able to quickly shift into various position/s, make quick movements in any direction quickly and reach the ball. Volleyball strength workouts focus on power development and maintaining safe positions when exploding through the plays. Many players include resistance training exercises in their training programs to maximize power and set a solid foundation.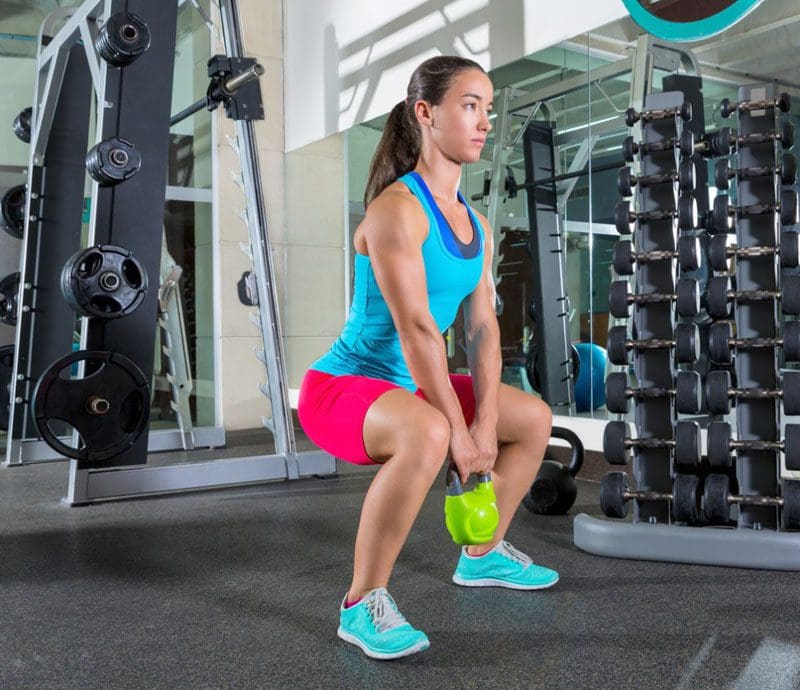 Volleyball Strength Workout
A well-rounded volleyball workout will help players strengthen and maintain optimal body health.
This exercise is ideal for gluteal strength, hamstring strength, and improving vertical jumps.
It is recommended to do three sets of 10 reps.
This volleyball workout works the hamstrings and glutes.
Helps improve balance and increases jump strength.
It is recommended to do three sets of 10 reps.
This volleyball strength workout builds up the legs and stabilizes the ankles to reduce the risk of injury.
It also helps with single-leg jumps.
It is recommended to do three sets of 16 reps, 8 left – 8 right.
The dumbbell snatch helps with jumping mechanics' power development and improves explosiveness.
It is recommended to do three sets of 8 reps.
This exercise helps prevent shoulder injuries.
Attackers develop secondary muscles that strengthen spiking.
It is recommended to do three sets of 8 reps.
Another recommended resistance training exercise that can be done is medicine ball throwdowns.
The object is to throw a medicine ball down forcefully; the ball bounces, catch and repeat.
It is recommended to do two-four sets of 6-10 reps.
A recommended exercise that can be done with a resistance band.
The exercise does not require a lot of space, so it can be done almost anywhere.
It is recommended to do two-three sets of  10-15 reps.
It is recommended to consult a professional trainer that can create a diverse fitness program to make exercising/training/working out much more enjoyable.
---
Body Composition
---
How Aerobic and Resistance Training Interact
The body adjusts differently to various types of exercise. Aerobic and resistance training each tells the body to adapt in different ways. Both are important for healthy body composition, and when done in combination, it is known as concurrent training. Aerobic is best for losing fat, resistance training builds muscle that keeps the body functioning throughout the day. However, molecular mechanisms involved in aerobic and resistance adaptations can interfere with each other if not appropriately planned. Two steps to minimize any possible interference and maximize aerobic/resistance benefits:
Nutrition
Adequate protein intake is vital for muscular adaptation from resistance training.
It stimulates muscle protein synthesis after concurrent training.
After workout sessions, consume at least 25g of high-quality protein to achieve strength and hypertrophy improvements.
Recovery
When doing both aerobic and resistance training on the same day, maximize recovery time between the sessions.
Strength and aerobic fitness gains are low when the two are separated by 6 hours or less.
Twenty-four hours between sessions is the recommended time, especially if the priority is on endurance.
References
Camera, Donny M et al. "Protein ingestion increases myofibrillar protein synthesis after concurrent exercise." Medicine and science in sports and exercise vol. 47,1 (2015): 82-91. doi:10.1249/MSS.0000000000000390
Cools, Ann M et al. "Prevention of shoulder injuries in overhead athletes: a science-based approach." Brazilian journal of physical therapy vol. 19,5 (2015): 331-9. doi:10.1590/bjpt-rbf.2014.0109
Pereira, Ana et al. "Training strategy of explosive strength in young female volleyball players." Medicina (Kaunas, Lithuania) vol. 51,2 (2015): 126-31. doi:10.1016/j.medici.2015.03.004
Ramirez-Campillo, Rodrigo et al. "Effects of Plyometric Jump Training on Vertical Jump Height of Volleyball Players: A Systematic Review with Meta-Analysis of Randomized-Controlled Trial." Journal of sports science & medicine vol. 19,3 489-499. 13 Aug. 2020
Seminati, Elena, and Alberto Enrico Minetti. "Overuse in volleyball training/practice: A review on the shoulder and spine-related injuries." European journal of sports science vol. 13,6 (2013): 732-43. doi:10.1080/17461391.2013.773090
Silva, Ana Filipa et al. "The Effect of Plyometric Training in Volleyball Players: A Systematic Review." International journal of environmental research and public health vol. 16,16 2960. 17 Aug. 2019, doi:10.3390/ijerph16162960
Villareal, Dennis T et al. "Aerobic or Resistance Exercise, or Both, in Dieting Obese Older Adults." The New England journal of medicine vol. 376,20 (2017): 1943-1955. doi:10.1056/NEJMoa1616338