Learning how to stay active with busy lives and schedules takes practice. There are daily ways to incorporate physical movement into the everyday routine and shed sedentary habits in favor of more active ones resulting in improved overall health, elevated mood, and better energy levels. Regular movement lowers body weight and reduces the risk of medical conditions like cardiovascular disease, diabetes, and arthritis. And regularly incorporating small physical activities throughout the day can make the exercise more fun and not like a chore that begins to become second nature.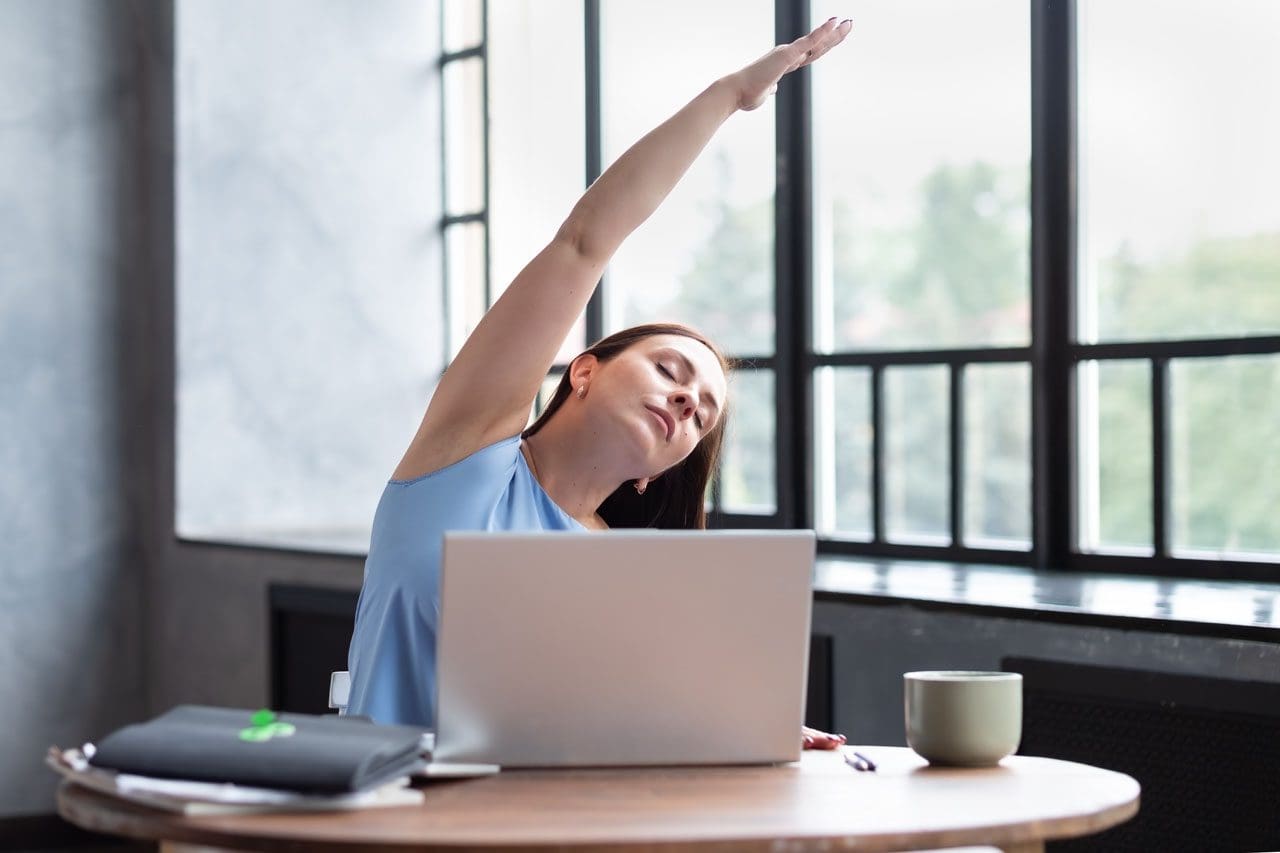 Daily Ways To Stay Active
Like most individuals, much time is spent sitting in the car, workstation/desk, or couch. Research has found that maintaining physical activity can reduce the risk of colon and breast cancer.
Movement
Everyone is different, and there is no one-size-fits-all daily or weekly movement plan. The Centers for Disease Control and Prevention recommends that adults ages 18 to 64 get around 150 minutes of moderate-intensity weekly exercise combined with functional strength training. This can seem like a lot, but still, some activity is better than none. Wherever an individual is in physical fitness, it is never too late to make incremental adjustments and rebuild health one step at a time.
Brisk walking is an example of moderate-intensity exercise.
Individuals with busy schedules can break up their daily movement into smaller chunks.
5 or 10 minutes here and there add up to significant health benefits.
Start With Stretching
A quick morning stretch of 10 minutes can help limber up the muscles, get circulation pumping, and reduce stress.
A study found that a regular 10-minute stretching plan helped reduce anxiety and physical pain and increase flexibility.
Stand Up and Walking Around More
Standing up every 20-30 minutes at home or work is recommended during seated activities.
Walking and thinking increases creative output.
Mobility gets the blood pumping and increases caloric output.
With regular practice, individuals learn to feel their muscles tensing from too much sitting and know it's time to get up and move.
One way to stand and move is to pace the room during a phone call.
Take the Long Way
Take the stairs or park farther from the store to increase walking steps.
Physical activity in small bursts creates a mindset of an added challenge.
 Choosing to go the long way does make a difference and can significantly affect other areas of life.
Move to Music
Research shows that music has amazing effects on physical activity.
It distracts from pain and fatigue.
It increases endurance.
Makes physical activity and exercise feel like less of an effort.
Playing moving music around the office, if possible/headphones and house can get the body naturally moving more.
House Tasks
Cleaning the house and doing chores from a fitness perspective can be a refreshing way to get the work done and work out.
This could be washing dishes after dinner, using the whole body
Vacuuming the house can work the muscles and elevate the heart rate.
A 150-pound person can burn serious calories from a full hour of cleaning and chores.
Added mental health benefits from the work reduce anxiety, depression, and negative mood.
Get Up When Commercials Come On
Get up and move during commercial breaks.
But with streaming services, commercials aren't the same.
When watching shows or movies without built-in commercials, make a habit of getting up.
For shows or movies with no commercials, pause and take a quick stretch, do a quick round of jumping jacks, or walk to the other end of the house or twice in an apartment and back.
A brief break is not an actual workout, but it will get the heart pumping more than staying sedentary.
The more you do it, the more natural it will become.
---
Military Training and Chiropractic Care
---
References
Habay, Jelle, et al. "Interindividual Variability in Mental Fatigue-Related Impairments in Endurance Performance: A Systematic Review and Multiple Meta-regression." Sports medicine – open vol. 9,1 14. 20 Feb. 2023, doi:10.1186/s40798-023-00559-7
Hotta, Kazuki, et al. "Daily muscle stretching enhances blood flow, endothelial function, capillarity, vascular volume and connectivity in aged skeletal muscle." The Journal of Physiology vol. 596,10 (2018): 1903-1917. doi:10.1113/JP275459
Kruse, Nicholas T, and Barry W Scheuermann. "Cardiovascular Responses to Skeletal Muscle Stretching: "Stretching" the Truth or a New Exercise Paradigm for Cardiovascular Medicine?." Sports medicine (Auckland, N.Z.) vol. 47,12 (2017): 2507-2520. doi:10.1007/s40279-017-0768-1
Maltese, Paolo Enrico et al. "Molecular foundations of chiropractic therapy." Acta bio-medica : Atenei Parmensis vol. 90,10-S 93-102. 30 Sep. 2019, doi:10.23750/abm.v90i10-S.8768
Ma, Peng, et al. "Daily sedentary time and its association with risk for colorectal cancer in adults: A dose-response meta-analysis of prospective cohort studies." Medicine vol. 96,22 (2017): e7049. doi:10.1097/MD.0000000000007049
Rangul, Vegar, et al. "The associations of sitting time and physical activity on total and site-specific cancer incidence: Results from the HUNT study, Norway." PloS one vol. 13,10 e0206015. 23 Oct. 2018, doi:10.1371/journal.pone.0206015
Shen, Dong, et al. "Sedentary behavior and incident cancer: a meta-analysis of prospective studies." PloS one vol. 9,8 e105709. 25 Aug. 2014, doi:10.1371/journal.pone.0105709