Middle Back Trigger Points: EP's Chiropractic Injury Rehabilitation
Upper and middle/mid-back pain and/or pain between the shoulder blades is common for individuals who spend long hours sitting or standing. Stress, tension, and repetitive movements can cause middle-back trigger points to develop. Symptoms occur anywhere from the neck's base to the bottom of the rib cage. Trigger point development and reoccurrence can contribute to chronic upper and middle back pain. Injury Medical Chiropractic and Functional Medicine Clinic can release, relieve and help prevent trigger points through various therapies and treatment plans.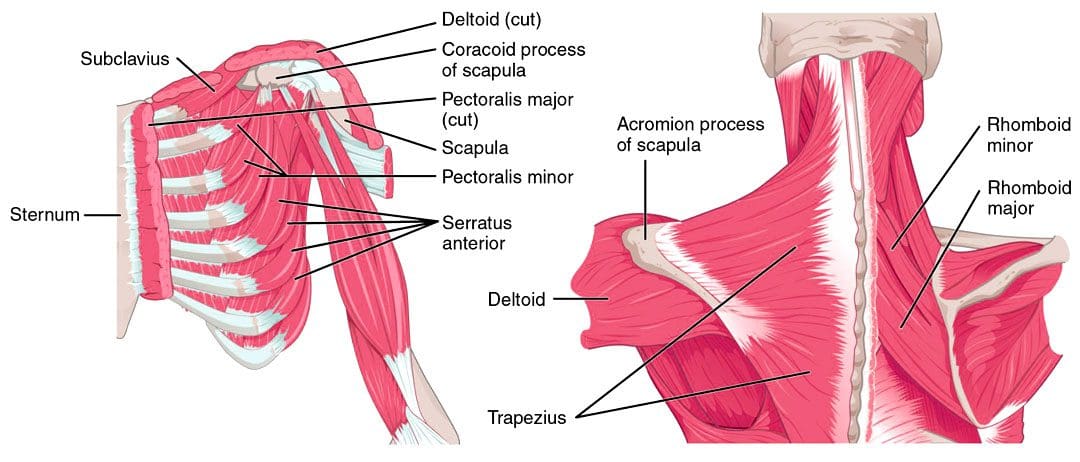 Middle Back Trigger Points
The ribs attach to the sternum and adhere to and wrap around the back. Pain and sensation symptoms can radiate to other places where the nerve travels if a nerve in this area is pinched, irritated, or injured. The muscle groups of the chest region also have a significant role in middle back trigger point development. Tension in the chest muscles can overload the muscles of the mid-back region, causing tightness. This happens to individuals that release the trigger points in the mid-back muscles but fail to address the trigger points in the chest muscles, causing reactivation that could worsen the injury. Three muscle groups can cause trigger point referred pain between the shoulder blades include:
Middle Trapezius
Pectoralis Major
Rhomboid Trigger Points Between the Shoulder Blades
The Rhomboid muscle group is found in the mid-back region, between the shoulder blades.
These muscles attach along the spine and run diagonally downward to connect to the inside of the shoulder blade.
The contraction causes the shoulder blades to retract and rotate.
Trigger points only cause pain in the region of the muscle group.
They can cause tenderness in the region and the spinous process or the bony tip extending from the lamina or part that can be felt when touching the back.
The pain is often described as burning.
Rhomboid Trigger Symptoms
A common symptom is superficial aching between the shoulder blades that individuals try to rub with their fingers to get relief.
Intense pain can extend upward to the shoulder area above the blade and into the neck area.
Individuals may hear or feel a crunching and snapping as they move the shoulder blades.
The common rounded-shoulder and forward-head hunching posture are nearly always present in individuals with these trigger points.
Middle Trapezius Trigger Points
The trapezius is the large, diamond-shaped muscle group that forms the base of the neck and upper back.
It has attachment points at the bottom of the skull, along the spine, collarbone, and shoulder blade.
When this muscle contracts, it moves the shoulder blade.
Movements can also affect the neck and head region.
Trigger points in the middle portion of this muscle refer to pain between the shoulder blades and the spine.
Trigger points develop for several reasons, including unhealthy postures, stress, injuries, falls, and sleeping positions.
Additionally, tension and added trigger points in the chest muscles can overload the Trapezius muscle fibers, causing trigger point development.
Trapezius Symptoms
It can be difficult to distinguish pain from the middle trapezius and rhomboid trigger points.
Pain in the middle trapezius can have more of a burning sensation and often extends over the thoracic spine.
The pain referral to the spine can activate secondary trigger points in the surrounding muscles.
Pectoralis Major Trigger Points
The Pectoralis Major muscle group is the large, flat muscles in the upper chest region.
The muscle has four overlapping sections that attach to the ribs, collarbone, chest bone, and upper arm at the shoulder.
The muscle group contracts when pushing with the arms in front of the body and rotating the arms inward towards the trunk.
Trigger points can radiate pain symptoms to the chest, shoulder, and breast regions.
Numbness and/or pain can radiate down the inside of the arm and into the fingers.
Trigger points in this muscle group can activate triggers in the upper back, causing pain symptoms between the shoulder blades.
Pectoralis Major Symptoms
Individuals will present with chest pain, front shoulder pain, and pain traveling down the inside of the arm to the elbow.
If referred pain occurs on the person's left side, it can be similar to cardiac pain.
Consult a cardiologist to rule out cardiac involvement before investigating trigger points.
The pain will initially occur on one side of the chest but can spread to the other as it intensifies.
In many, the pain is only experienced with the movement of the arms and goes away or decreases with rest.
Simultaneous pain in the mid-back, between the shoulder blades, frequently occurs.
In women, there may be nipple sensitivity and pain in the breast.
The breast can become enlarged from the tension causing impaired lymphatic drainage.
Chiropractic Treatment
Chiropractors treat myofascial pain syndromes such as myofascial trigger points or adhesions with various therapies. A chiropractor will locate trigger points by pressing muscle tissue or manipulating the muscle fibers. Once the trigger points have been found, treatment can include:
Massage.
Percussive Massage.
MET techniques.
Myofascial release techniques.
Applied pressure to reduce pain gradually.
Direct pressure upon the trigger point.
Chiropractic adjustments.
Targeted stretching.
Decompression.
Health coaching.
---
Fighting Inflammation Naturally
---
References
Barbero, Marco, et al. "Myofascial pain syndrome and trigger points: evaluation and treatment in patients with musculoskeletal pain." Current Opinion in Supportive and palliative care vol. 13,3 (2019): 270-276. doi:10.1097/SPC.0000000000000445
Bethers, Amber H et al. "Positional release therapy and therapeutic massage reduce muscle trigger and tender points." Journal of Bodywork and movement therapies vol. 28 (2021): 264-270. doi:10.1016/j.jbmt.2021.07.005
Birinci, Tansu, et al. "Stretching exercises combined with ischemic compression in pectoralis minor muscle with latent trigger points: A single-blind, randomized, controlled pilot trial." Complementary therapies in clinical practice vol. 38 (2020): 101080. doi:10.1016/j.ctcp.2019.101080
Farrell C, Kiel J. Anatomy, Back, Rhomboid Muscles. [Updated 2023 May 16]. In: StatPearls [Internet]. Treasure Island (FL): StatPearls Publishing; 2023 Jan-. Available from: www.ncbi.nlm.nih.gov/books/NBK534856/
Gupta, Lokesh, and Shri Prakash Singh. "Ultrasound-Guided Trigger Point Injection for Myofascial Trigger Points in the Subscapularis and Pectoralis Muscles." Yonsei medical journal vol. 57,2 (2016): 538. doi:10.3349/ymj.2016.57.2.538
Moraska, Albert F et al. "Responsiveness of Myofascial Trigger Points to Single and Multiple Trigger Point Release Massages: A Randomized, Placebo-Controlled Trial." American Journal of physical medicine & Rehabilitation vol. 96,9 (2017): 639-645. doi:10.1097/PHM.0000000000000728
Sadria, Golnaz, et al. "A comparison of the effect of the active release and muscle energy techniques on the latent trigger points of the upper trapezius." Journal of bodywork and movement therapies vol. 21,4 (2017): 920-925. doi:10.1016/j.jbmt.2016.10.005
Tiric-Campara, Merita, et al. "Occupational overuse syndrome (technological diseases): carpal tunnel syndrome, a mouse shoulder, cervical pain syndrome." Acta informatica medica : AIM : journal of the Society for Medical Informatics of Bosnia & Herzegovina : casopis Drustva za medicinsku informatiku BiH vol. 22,5 (2014): 333-40. doi:10.5455/aim.2014.22.333-340
Post Disclaimer *
Professional Scope of Practice *
The information herein on "Middle Back Trigger Points: EP's Chiropractic Injury Rehabilitation" is not intended to replace a one-on-one relationship with a qualified health care professional or licensed physician and is not medical advice. We encourage you to make healthcare decisions based on your research and partnership with a qualified healthcare professional.
Blog Information & Scope Discussions
Our information scope is limited to Chiropractic, musculoskeletal, physical medicines, wellness, contributing etiological viscerosomatic disturbances within clinical presentations, associated somatovisceral reflex clinical dynamics, subluxation complexes, sensitive health issues, and/or functional medicine articles, topics, and discussions.
We provide and present clinical collaboration with specialists from various disciplines. Each specialist is governed by their professional scope of practice and their jurisdiction of licensure. We use functional health & wellness protocols to treat and support care for the injuries or disorders of the musculoskeletal system.
Our videos, posts, topics, subjects, and insights cover clinical matters, issues, and topics that relate to and directly or indirectly support our clinical scope of practice.*
Our office has reasonably attempted to provide supportive citations and has identified the relevant research study or studies supporting our posts. We provide copies of supporting research studies available to regulatory boards and the public upon request.
We understand that we cover matters that require an additional explanation of how it may assist in a particular care plan or treatment protocol; therefore, to further discuss the subject matter above, please feel free to ask Dr. Alex Jimenez, DC, or contact us at 915-850-0900.
We are here to help you and your family.
Blessings
Dr. Alex Jimenez DC, MSACP, RN*, CCST, IFMCP*, CIFM*, ATN*
email: coach@elpasofunctionalmedicine.com
Licensed as a Doctor of Chiropractic (DC) in Texas & New Mexico*
Texas DC License # TX5807, New Mexico DC License # NM-DC2182
Licensed as a Registered Nurse (RN*) in Florida
Florida License RN License # RN9617241 (Control No. 3558029)
Presently Matriculated: ICHS: MSN* FNP (Family Nurse Practitioner Program)
Dr. Alex Jimenez DC, MSACP, RN* CIFM*, IFMCP*, ATN*, CCST
My Digital Business Card