Internal Organ Damage Chiropractic Rehab Team
Internal injuries occur under the skin and muscle tissues. Internal organ damage occurs when an organ's structure becomes altered or begins to malfunction and can be brought on by trauma or disease. Sympathetic nerves send and receive messages, including pain signals, from the brain through the spinal cord. Chiropractors understand the spine and internal organ connection. For example, the splanchnic nerves connect to the stomach, originating between thoracic vertebra six and ten.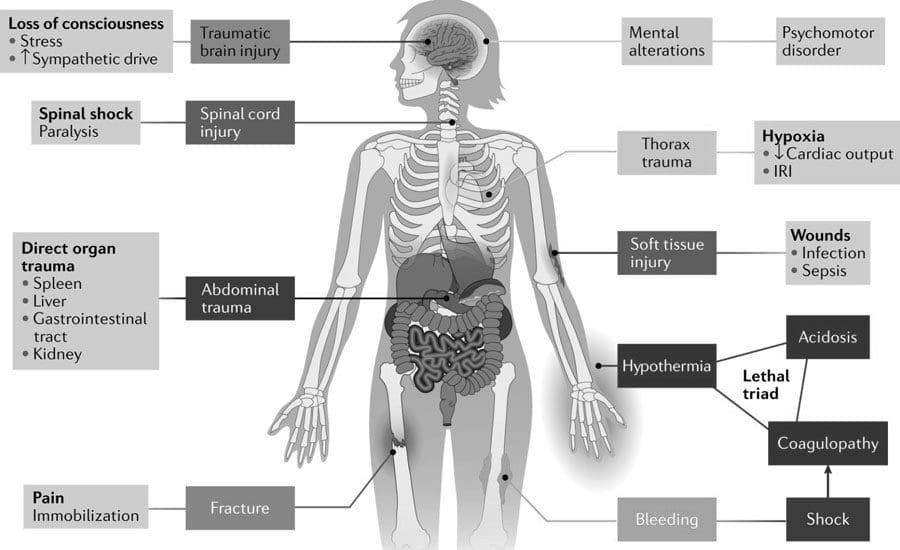 Internal Organ Damage
Blunt Trauma
Blunt trauma/Non-penetrating trauma happens when a forceful impact strikes the body.
A car accident, hard fall, or getting hit by a dull object qualifies as blunt trauma.
Blunt trauma can rupture the blood vessels and organs.
Organs most likely to experience damage include the spleen and liver.
Penetrating Trauma
Penetrating trauma happens when an object enters the body.
The object can bruise, slice, and pierce organs.
Internal bleeding can occur if blood vessels are torn or cut.
Organs fall into two categories:
Solid Organs
The solid organs contain organ tissue throughout and include the following:
Liver
Spleen
Kidneys
Pancreas
When solid organs go through trauma, they can rupture and/or develop hematomas.
A hematoma is when blood vessels rupture and blood collects inside the organ.
Hollow Organs
The hollow organs have an organ wall that surrounds an empty/hollow space that includes:
Stomach
Intestines
Colon
Bladder
Hollow organs that experience trauma can tear the walls and allow material to leak out.
This leakage can cause peritonitis and sepsis.
Individuals can also develop hematomas with blood collecting in the organ wall.
Thoracic Spine
The thoracic spine is the most interconnected with the internal organs and includes:
T2 – the chest, heart, and blood vessels.
T4 – the gallbladder, tendons, and ligaments.
T6 – the stomach and pancreas.
T10 – the kidneys.
Lumbar Spine
The lumbar spine is connected to the lower organs.
L1 is connected to the large intestine.
Issues with L1 might be indicated by constipation or diarrhea.
L3 Is connected to the bladder, uterus in women, and prostate in men.
Painful menstruation or impotence could indicate problems.
Organ Damage Effects
 Internal bleeding is the most immediate issue arising from internal organ damage.
Bleeding can lead to shock as blood volume drops.
It can also form hematomas in the organs.
Internal bleeding can also occur after less severe trauma and/or be delayed for hours or days.
After the individual is stabilized, localized symptoms can appear.
Damaged organs can become inflamed and swell, causing abdominal compartment syndrome.
Compartment syndrome occurs when swelling restricts blood circulation to and from the organ to the circulatory and nervous systems, causing pain and further damage to the organ tissues.
If circulation is not restored, the organs may fail.
Severe swelling of the organs can cause heart and lung problems, as the swollen organs leave no room for the lungs to expand or for the heart to pump blood.
Emergency Treatment and Rehabilitation
Blunt force injuries that produce significant organ impact, bleeding, and penetrating injuries may require surgery to repair or remove damaged organs. Doctors may keep the injured individual under observation for minor internal bleeding to see if surgery is needed. Minor internal bleeding often heals on its own without surgery. Injury Medical Chiropractic and Functional Medicine Clinic offer rehabilitation after surgery as a thorough way to expedite healing and recovery.
Chiropractic manages pain without medications that can interfere with the ability to perform simple tasks.
The body's functions and biochemical responses from the trauma and surgery are addressed.
Inflammation and swelling are alleviated, and prevention is done through adjustments, massage, diet, and health coaching.
---
Severe Back Pain Chiropractic
---
References
Iheozor-Ejiofor, Zipporah, et al. "Negative pressure wound therapy for open traumatic wounds." The Cochrane database of systematic reviews vol. 7,7 CD012522. 3 Jul. 2018, doi:10.1002/14651858.CD012522.pub2
McCausland C, Sajjad H. Anatomy, Back, Splanchnic Nerve. [Updated 2021 Aug 11]. In: StatPearls [Internet]. Treasure Island (FL): StatPearls Publishing; 2022 Jan-. Available from: www.ncbi.nlm.nih.gov/books/NBK549856/
Newman RK, Dayal N, Dominique E. Abdominal Compartment Syndrome. [Updated 2022 Apr 21]. In: StatPearls [Internet]. Treasure Island (FL): StatPearls Publishing; 2022 Jan-. Available from: www.ncbi.nlm.nih.gov/books/NBK430932/
Risselada, Marije. "Perforating Cervical, Thoracic, and Abdominal Wounds." The Veterinary clinics of North America. Small animal practice vol. 47,6 (2017): 1135-1148. doi:10.1016/j.cvsm.2017.06.002
Shaheen, Aisha W et al. "Abdominal compartment syndrome in trauma patients: New insights for predicting outcomes." Journal of emergencies, trauma, and shock vol. 9,2 (2016): 53-7. doi:10.4103/0974-2700.179452
Sikka, Rishi. "Unsuspected internal organ traumatic injuries." Emergency medicine clinics of North America vol. 22,4 (2004): 1067-80. doi:10.1016/j.emc.2004.05.006