Fatigue: Ankylosing Spondylitis Rehabilitation
Fatigue Ankylosing Spondylitis: Fatigue is a significant complaint for individuals dealing with ankylosing spondylitis. Ankylosing spondylitis is chronic inflammation of the spine's joints that can cause them to become fused or locked up. The process can cause the spine to stiffen, limiting movement, reducing flexibility, and generating a severe hunched posture. Symptoms can include back pain, stiffness, and the inability to take a deep breath if the ribs are involved. Fatigue can have a variety of causes, but in ankylosing spondylitis, inflammation and cytokines play a significant role. The underlying cause of ankylosing spondylitis is still being researched, but it currently affects around 300,000 Americans.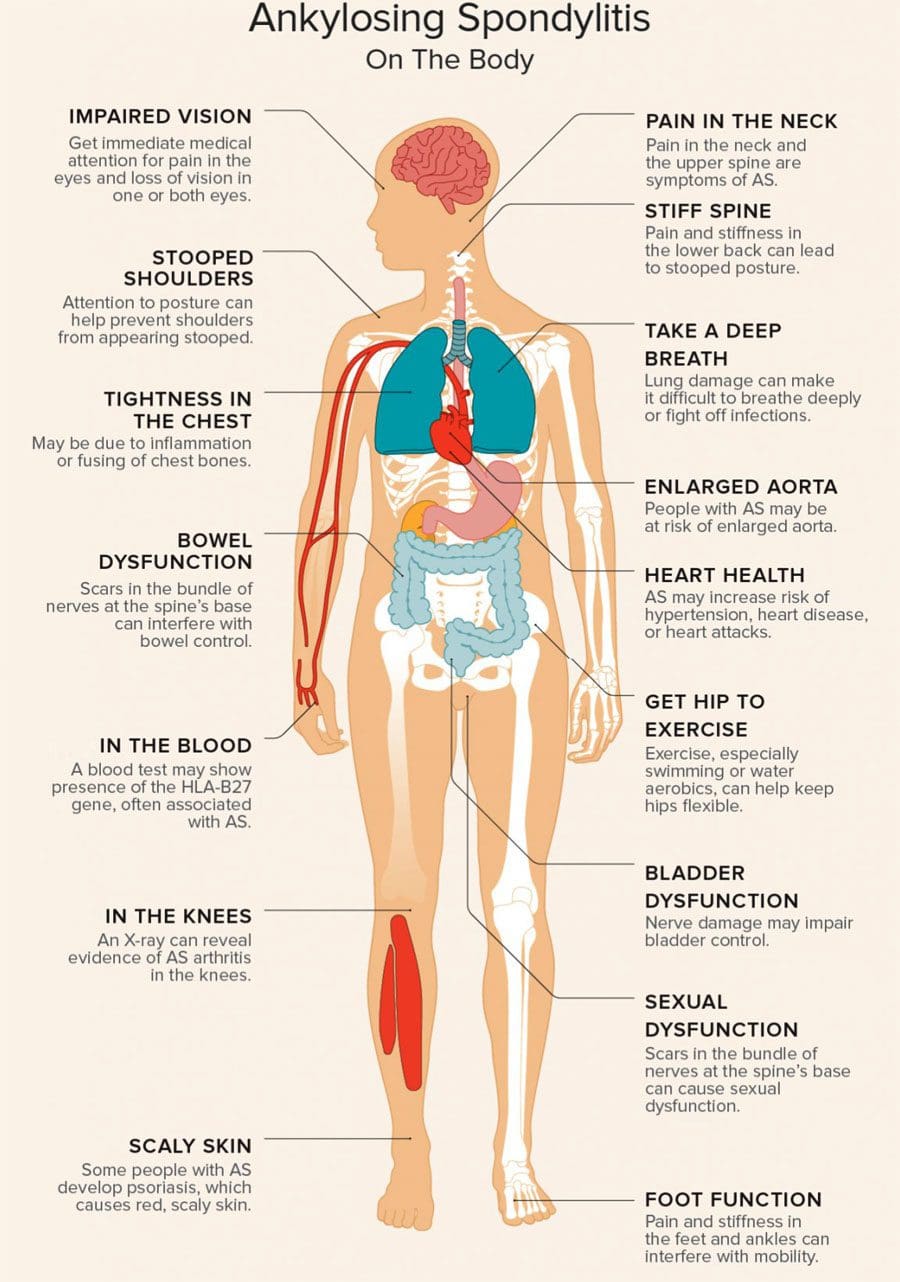 Fatigue Ankylosing Spondylitis
Most individuals with ankylosing spondylitis experience pain in the lower back but can also feel pain in their hips and neck, have abdominal pain, or experience problems with vision. Inflammatory back pain is usually strongest in the morning but can also come from inactivity.
Spinal Condition and Extreme Exhaustion
The inability to move along with a decreased spinal range of motion impacts body functionality, sleep quality, and respiratory function affecting energy levels and leading to mild to severe fatigue. Studies have shown that 50% – 85% of individuals with ankylosing spondylitis experience fatigue.
Fatigue is brought on by inflammation, as the body generates the same chemicals when fighting a cold or flu; an individual's body constantly works to reduce inflammation, leaving them drained and unable to perform ordinary tasks. Inflammatory diseases take a significant toll on the whole body, leading to an increased risk of depression and increased fatigue levels.
Exercise, Massage, and Diet
Many individuals find that their symptoms flare up after long periods of inactivity, like sleeping. This can make wanting to fall and stay asleep complicated, exacerbating fatigue and vice versa, creating a vicious cycle. Even though it can be challenging to move, gentle exercise is recommended. Exercise can help slow the disease progression, build muscle, and improve sleep. It is recommended to speak with a spine specialist, doctor, chiropractor, physical therapist, or exercise trainer about a customized exercise treatment program.
Many individuals with ankylosing spondylitis find therapeutic massage helpful in temporarily relieving pain, and stiffness, reducing stress and improving flexibility from increased blood circulation. A combination of gentle chiropractic massage, exercise, ergonomic adjustments, and rheumatology treatment is recommended for many cases. An anti-inflammatory diet comprised of foods like fatty fish, fruits, nuts, and leafy green vegetables can fight inflammation and decrease fatigue.
---
AS Causes, Symptoms, Diagnosis, Treatment, and Pathology
---
References
Cornelson, Stacey M et al. "Chiropractic Care in the Management of Inactive Ankylosing Spondylitis: A Case Series." Journal of chiropractic medicine vol. 16,4 (2017): 300-307. doi:10.1016/j.jcm.2017.10.002
Li, Ting, et al. "Fatigue in Ankylosing Spondylitis Is Associated With Psychological Factors and Brain Gray Matter." Frontiers in medicine vol. 6 271. 21 Nov. 2019, doi:10.3389/fmed.2019.00271
Zhang, Jun-Ming, and Jianxiong An. "Cytokines, inflammation, and pain." International anesthesiology clinics vol. 45,2 (2007): 27-37. doi:10.1097/AIA.0b013e318034194e