Asthma Coughing and Back Pain
Asthma, coughing, and heavy breathing can contribute to back muscle strain, soreness, and pain. An asthma attack can cause the body to heave during intense gasping, leaving the back muscles physically exhausted. Chiropractic adjustments and decompression can bring back pain relief, strengthen and stretch the spine and spinal muscles, and prevent it from returning, along with asthma management.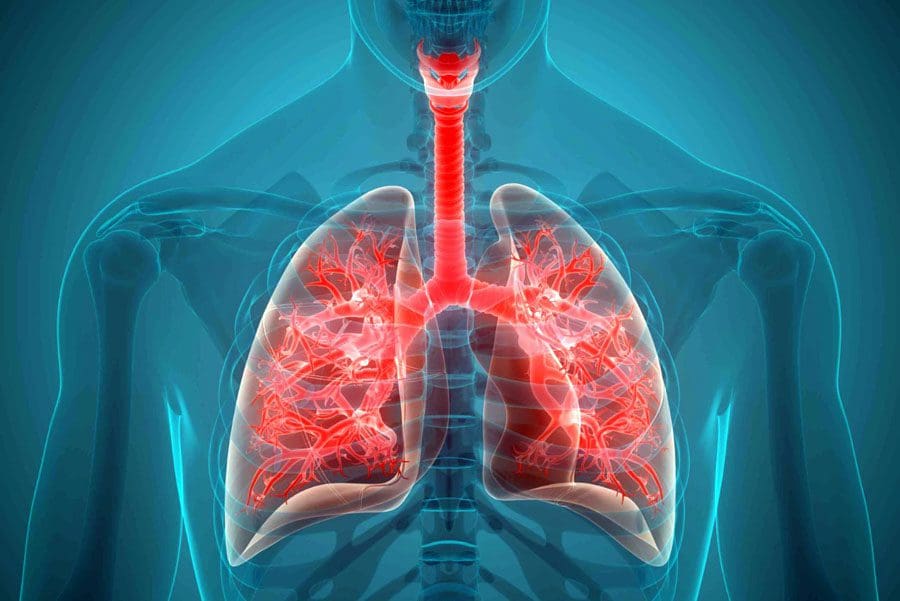 Asthma
The bronchial tubes divide into smaller passages called bronchi and then into bronchioles. The bronchioles have tiny air sacs called alveoli, where inhaled oxygen is delivered to the blood. After absorbing the oxygen, the blood leaves the lungs and travels to the heart. Asthma is a lung condition that can affect anyone at any age. Asthma narrows the lungs' airways causing inflammation in response to respiratory triggers, making it harder for air to travel out of the airways when exhaling. Symptoms include:
Wheezing
Difficulty breathing
Gasping to get air
Coughing
Tightness in the chest
Triggers can include:
Hot and/or humid weather
Exercise
Cold air
Pollen
Pets
Viral infections
Respiratory infections
Asthma Coughing and Back Strain
Asthma symptoms can take a toll on the back muscles and spine. Asthma attacks that cause gasping and heavy breathing cause the primary muscle (diaphragm) that supports breathing to weaken and strain. The diaphragm helps the spine but cannot do so effectively when under constant strain.
Constant Coughing and Spinal Health
Coughing is the body's way of expelling unwanted foreign bodies. Chronic coughing stresses, strains, and overexerts the spinal support muscles and impacts posture. Individuals unconsciously take on a tense, forward-leaning posture/position that can cause:
Neck and shoulder stiffness, upper/lower back tightness, disc herniation, and pain.
Vertebrae subluxations/spinal misalignments can interfere with circulation and nerve function.
For short-term back pain following an asthma attack or coughing episode, it is recommended to rest, apply heat or ice, and take over-the-counter pain medication.
Massage therapy and myofascial release can stretch and relax the muscles.
Chiropractic manipulation relieves the stress on the nerves and muscles and stimulates the spinal cord and nerves to regain proper functioning.
Breathing Exercises and Yoga
Strengthened and conditioned core muscles can help to breathe more efficiently. When breathing normally it is usually a shallow inhale/exhale that does not fill the lungs to the total capacity. Diaphragmatic breathing is a technique to fully engage the diaphragm and abdominal muscles to fill the lungs with air more efficiently. Using the diaphragm correctly will:
Strengthen the diaphragm.
Use less energy to breathe.
Slow down the breathing rate.
Decrease the work of breathing hard.
Decrease the demand for continuous oxygen.
Yoga is another core-strengthening technique that encourages focused breathing that can help improve asthma control.
---
Decompression Neurosurgeon
---
References
American Lung Association. Breathing Exercises. (www.lung.org/lung-health-diseases/wellness/breathing-exercises) Accessed 3/29/2022.
Cleveland Clinic. (n.d.) "Diaphragmatic breathing." my.clevelandclinic.org/health/articles/9445-diaphragmatic-breathing
Lunardi, Adriana Claudia, et al. "Musculoskeletal dysfunction and pain in adults with asthma." The Journal of asthma: Official Journal of the Association for the Care of Asthma vol. 48,1 (2011): 105-10. doi:10.3109/02770903.2010.520229
Rasmussen-Barr, E. et al. "Are respiratory disorders risk factors for troublesome low-back pain? A study of a general population cohort in Sweden." The European spine journal: official publication of the European Spine Society, the European Spinal Deformity Society, and the European Section of the Cervical Spine Research Society vol. 28,11 (2019): 2502-2509. doi:10.1007/s00586-019-06071-5
Solakoğlu, Özge, et al. "The effects of forward head posture on expiratory muscle strength in chronic neck pain patients: A cross-sectional study." Turkish Journal of physical medicine and rehabilitation vol. 66,2 161-168. 18 May. 2020, doi:10.5606/tftrd.2020.3153