Yoga and Chiropractic Fitness
Chiropractic care focuses on whole-body health, restoring optimal body function, helping injuries heal/rehabilitate, and maintaining musculoskeletal health. Yoga is one of the most popular forms of fitness because it is not overly physically demanding but still increases flexibility and muscle tone, helps with weight loss, improves cardiovascular and circulatory health, and enhances breathing and energy levels. Yoga provides benefits that directly relate to chiropractic, making the treatment more effective.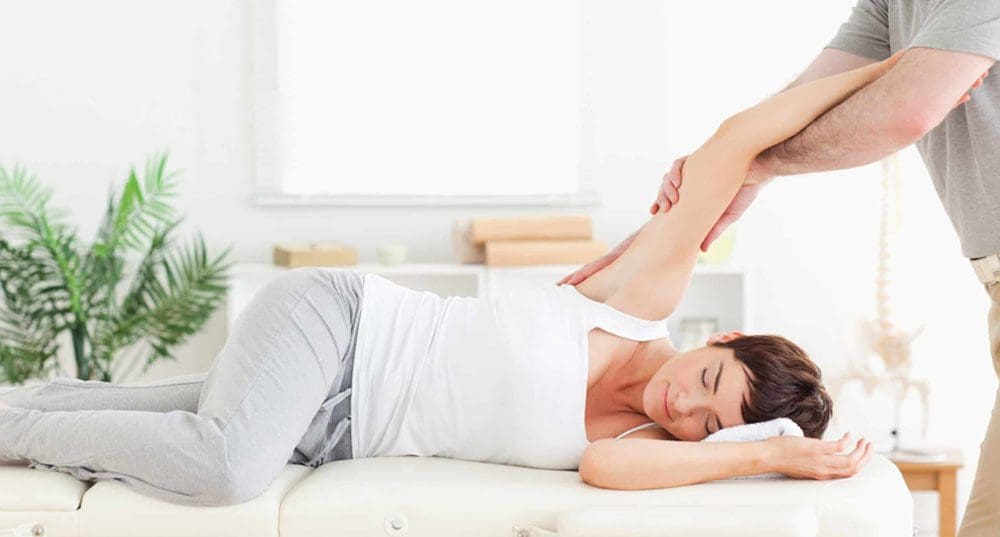 Yoga and Chiropractic
Yoga is an exercise focusing on mindfulness combined with deep stretches and focused breathing. Yoga focuses on balance, flexibility, and strength.
It helps to lower blood pressure and stress levels by releasing built-up tension.
It increases endurance and stamina.
It builds strength.
Helps to activate the body's natural healing process.
It stretches the muscles, ligaments, and tendons, keeping them loose and flexible, enhancing chiropractic adjustments.
Chiropractic
Chiropractic is multi-faceted, restoring the wellness of the neuromusculoskeletal system that involves the nerves, muscles, and bones. It works holistically with the body's natural processes to restore balance and overall health.
Realigns the spine.
Returns the natural shape of the body's structure.
Clears interference from the nervous system.
Rejuvenates the body.
Customized chiropractic adjustments, spinal decompression, and traction treatment plans help shift spinal deformities back toward proper balance.
Strengthen Soft Tissues
Yoga and chiropractic work and strengthen all the:
Connective tissues
Muscles
Ligaments
Tendons
Increasing the strength of the joints throughout the body reduces stress and the risk of injury.
Promote Healing
Yoga and chiropractic:
Prepare the body for healing.
Stretch and elongate the body.
Release built-up tension and stress.
Activate the body for healing.
Prevent Injury
Yoga and chiropractic:
Maintain body alignment.
Increase balance.
Stretch and relieve tense muscles.
Ensure proper joint operation.
Make the body less susceptible to injury.

Educate Individuals About The Body
Chiropractors and yoga teachers can educate individuals on how the body works, maintaining muscle strength, teaching posture awareness, and nervous system function for a healthier life.
---
Yoga Body Flow
---
References
Biman, Saranga, et al. "Effects of yoga on stress, fatigue, musculoskeletal pain, and the quality of life among employees of the diamond industry: A new approach in employee wellness." Work (Reading, Mass.) vol. 70,2 (2021): 521-529. doi:10.3233/WOR-213589
da Costa, Fernanda Mazzoni, et al.""Effects of an intervention program with health education and hatha yoga on the health of professionals with musculoskeletal symptoms"" Revista brasileira de medicina do trabalho : publicacao oficial da Associacao Nacional de Medicina do Trabalho-ANAMT vol. 18,2 114-124. 11 Dec. 2020, doi:10.47626/1679-4435-2020-492
Hawk, Cheryl, et al." Best Practices for Chiropractic Management of Patients with Chronic Musculoskeletal Pain: A Clinical Practice Guideline" Journal of alternative and complementary medicine (New York, N.Y.) vol. 26,10 (2020): 884-901. doi:10.1089/acm.2020.0181
Kolasinski, Sharon L et al." 2019 American College of Rheumatology/Arthritis Foundation Guideline for the Management of Osteoarthritis of the Hand, Hip, and Knee" Arthritis care & research vol. 72,2 (2020): 149-162. doi:10.1002/acr.24131
www.nccih.nih.gov/health/providers/digest/use-of-yoga-meditation-and-chiropractic-by-adults-and-children-science
Urits, Ivan et al." A Comprehensive Review of Alternative Therapies for the Management of Chronic Pain Patients: Acupuncture, Tai Chi, Osteopathic Manipulative Medicine, and Chiropractic Care" Advances in therapy vol. 38,1 (2021): 76-89. doi:10.1007/s12325-020-01554-0