Muscle Guarding After Strain or Injury Chiropractic Rehab
Individuals that have experienced a muscle strain, pull, spasm, etc., that has healed can begin to behave overly cautious, avoiding putting full weight on the area or using full motion out of fear of re-injuring it. This can and does strain other body areas because of the imbalance and awkward positioning. It also leads to anxiety, emotional distress, and decreased self-confidence in everyday movement. Adjustments, massage, and decompression therapy can maintain musculoskeletal health, and a chiropractor can help retrain individuals on healthy posture and confident movement.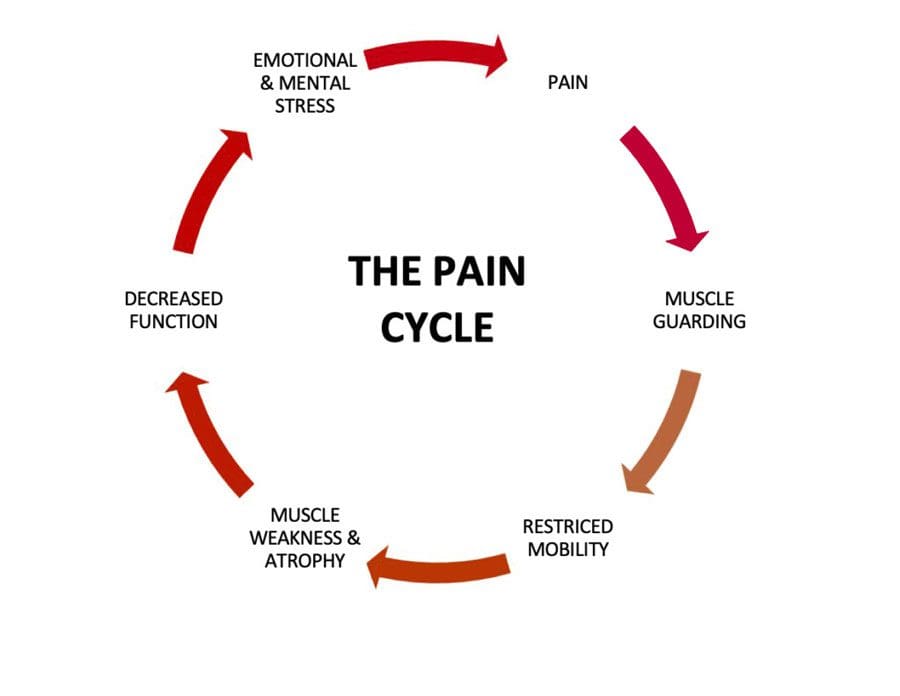 Muscle Guarding
Muscles can be held in a position of readiness to act, like the stress response of fight or flight. When this happens, the muscles are partially contracted in preparation for action and is a form of muscle-guarding. But once the fight or flight passes, the muscles relax into their normal position. With injury muscle guarding, the fears and stresses after recovering from an injury can cause the injured and non-injured muscles to stay in the guarded/semi-contracted position. The longer the muscle guarding continues, fatigue begins to set in, decreasing function, restricting mobility, and making the body more vulnerable to damage and injury.
The Brain
The discomfort, pain, or just the thought reinforces the need to guard the area. The brain will find a way to move without causing pain and create compensating but unhealthy movement patterns that strain the other areas of the body. The body adapts to not using the formerly injured muscles and now relies on the other muscles to perform the functions in a non-relaxed state that can become normal, causing stiffness, soreness, tenderness, tendon tension, and pain.
An example is a hip strain, pull or spasm that has been treated and has healed, but the individual is fearful of another injury or going through the painful experience again and begins walking by shifting all their weight to the other side and steps with a limp or some abnormal motion that strains and/or injures the rest of the body.
Chiropractic Treatment and Retraining
Individuals experiencing muscle guarding can find help through chiropractic to retrain their muscles to return to their normal position and regain confidence in their movements. The body will be rebalanced by releasing and relaxing the tight muscles. Then therapeutic repetitive movements, specialized exercises, stretches, and relaxation techniques will help the individual relearn to use the muscles without fear.
---
Protective Muscle Guarding
---
References
Hanlon, Shawn et al. "Examining Ankle-Joint Laxity Using 2 Knee Positions and With Simulated Muscle Guarding." Journal of athletic training vol. 51,2 (2016): 111-7. doi:10.4085/1062-6050-51.3.06
Olugbade, Temitayo et al. "The relationship between guarding, pain, and emotion." Pain reports vol. 4,4 e770. 22 Jul. 2019, doi:10.1097/PR9.0000000000000770
Prkachin, Kenneth M et al. "Pain behavior and the development of pain-related disability: the importance of guarding." The Clinical journal of pain vol. 23,3 (2007): 270-7. doi:10.1097/AJP.0b013e3180308d28